More than 9 years Chess Mix maintains the best chess tournament calendar and the biggest periodical online chess games database

10 Days 382 : Periodical chess games database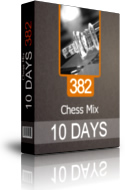 Events
---
Chess news
08.12, By Chess.com
In an exhibition match held in Moscow, Russia the Latvian grandmaster Alexei Shirov outclassed the Russian talent Daniil Dubov: 5-1. Shirov won four games while the first and the last were drawn. In what was a very exciting match, Shirov clea...
---
---
---
If you are not subscribed:
and you will have immediate access to
The best chess tournament calendar
The biggest periodical online chess games database
The list of chess players looking for a club
for
€ 19.
90
/ year