More than 9 years Chess Mix maintains the best chess tournament calendar and the biggest periodical online chess games database

10 Days 420 : Periodical chess games database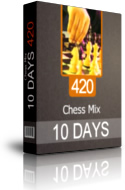 Events
---
Chess news
20.12, By TWIC
The Nutcracker Match of the Generations takes place 20th to 25th December 2014 in Moscow. A Scheveningen chess tournament with a team of experienced "Kings" (Leko, Shirov, Dreev and Morozevich) take on a team of younger players "Princes" (Artemiev, Fedoseev, Dubov and Oparin). Starts with 4 Classical game then two days with 8 rapid games.
---
---
---
If you are not subscribed:
and you will have immediate access to
The best chess tournament calendar
The biggest periodical online chess games database
The list of chess players looking for a club
for
€ 19.
90
/ year