More than 9 years Chess Mix maintains the best chess tournament calendar and the biggest periodical online chess games database

10 Days 414 : Periodical chess games database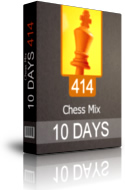 Events
---
Chess news
24.10, By Chess.com
After one year of absence, Magnus Carlsen will be back in Wijk aan Zee for the 77th Tata Steel chess tournament. Another super tournament will start 3 November: the Petrosian Memorial. Tashir Chess In chronological order this article should st...
---
---
---
If you are not subscribed:
and you will have immediate access to
The best chess tournament calendar
The biggest periodical online chess games database
The list of chess players looking for a club
for
€ 19.
90
/ year