More than 9 years Chess Mix maintains the best chess tournament calendar and the biggest periodical online chess games database

10 Days 414 : Periodical chess games database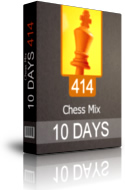 Events
---
Chess news
21.10, By Chess.com
Less than a week after the first Grand Prix in Baku the second one has started today in Tashkent, Uzbekistan. One of the winners in Baku started with a loss: Fabiano Caruana went down against Maxime Vachier-Lagrave. Dmitry Andreikin and Hikaru N...
---
---
---
If you are not subscribed:
and you will have immediate access to
The best chess tournament calendar
The biggest periodical online chess games database
The list of chess players looking for a club
for
€ 19.
90
/ year