More than 9 years Chess Mix maintains the best chess tournament calendar and the biggest periodical online chess games database

10 Days 409 : Periodical chess games database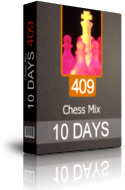 Events
---
Chess news
01.09, By Chess.com
Today in St. Louis, GM Fabiano Caruana completed his five-game first half shutout. Also today in Japan, a high school baseball pitcher completed a 50-inning shutout. Which was more impressive? Well, the baseball game lasted for four days; Caruan...
---
---
---
If you are not subscribed:
and you will have immediate access to
The best chess tournament calendar
The biggest periodical online chess games database
The list of chess players looking for a club
for
€ 19.
90
/ year