More than 9 years Chess Mix maintains the best chess tournament calendar and the biggest periodical online chess games database

10 Days 405 : Periodical chess games database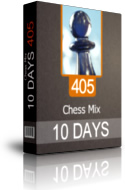 Events
---
Chess news
30.07, By Chess.com
Go ahead and take that late summer vacation you've been planning. After the usual August hiatus, school will be back in session as Chess.com's Death Match series returns in September with GM Alex Lenderman and GM Wang Yue going pawn to pawn. The...
---
---
---
If you are not subscribed:
and you will have immediate access to
The best chess tournament calendar
The biggest periodical online chess games database
The list of chess players looking for a club
for
€ 19.
90
/ year